I would like to offer accolades and commendations to both the Post-Gazette, which has a G-20 "topic" page at:
http://www.post-gazette.com/g20summit/
, and also to the Tribune-Review, which has a similar G20 page at
http://www.pittsburghlive.com/x/pittsburghtrib/news/specialreports/g20/
.
Here's a partial / early listing of announced G20 closures:
Federal courthouse, Downtown: Closed Sept. 23-25.

Pittsburgh City Council offices: Closed Sept. 23-25.

Community College of Allegheny County: Closed Sept. 23-25.

Duquesne University: Closed from noon, Sept. 23-25.

Point Park University: Closed Sept. 23-26.

Robert Morris University: Pittsburgh Center and Bayer Center closed Sept. 23-27. Moon campus will be open.

Catholic Diocese of Pittsburgh: Early dismissal Sept. 23 and closed Sept. 24-25 for 13 elementary schools and 14 high schools

City Charter High School: Closed Sept. 24-25.

Pittsburgh Public Schools: All 66 schools closed Sept. 24-25.

West Mifflin Area School District: Closed Sept. 23-25.

Harris Theater, Downtown: Dates to be announced.

Amtrak: No trip can start or end in Pittsburgh from Sept. 24-26.

Sunday's The Observer writes about
London's G-20 experience
.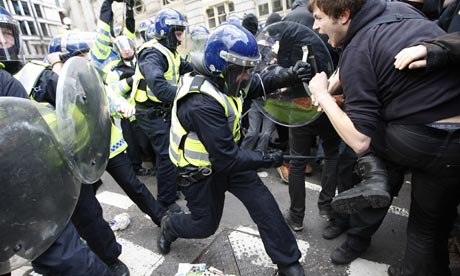 (coming soon to a Burgh near you)
I read a well-written post
by Sue
about City Council closing and the impact on lower-paid employees. She says it better than I can:
What about the rest of City employees? The ones making $24,000/year who need to conserve their PTO for their kids sicks days? What about the non-unionized service employees? What about the people who live Downtown (and not just in the penthouses)? ... I saw a press conference snippet of Joanna Doven practically shaking her finger admonishing people to reschedule their medical appointments. She fails to explain how the small business optometrist is going to weather the enforced closure of his practice for a few days. Who pays the "inconvenienced" staff salaries?
The
AngryDrunkBureaucrat
has a great G-20 Update that synthesizes the state of affairs:
no local people know anything
. You may think this means Uncle Sam has this covered. Or, you may think that Luke's administration is hosed. Glass half full, glass half empty. We'll see
.
To summarize (ie, repeat) my open questions:
Who actually said "yes" to having the G-20 in Pittsburgh? What elected official is responsible for bringing it here?


What elected official is responsible for public safety in the streets around the G20 perimeter - is it Luke Ravenstahl (city), Dan Onorato (county), or Ed Rendell (state)?


Why is Pittsburgh planning on a much smaller police presence than London and Italy used for their G-20 meetings this year? Who made that decision?


Was Pittsburgh the first city offered the G-20, or the eleventh?


Will government be reimbursing lost salary to people who lose work because of the security zone?


After the G-20: What work was done here? Or was it a photo-op?
These questions matter (to me) because in a democracy, government action doesn't just appear from the heavens as a fait accompli. Decisions are made by elected officials, and implemented by careerists. Nobody shuts down a city without the people knowing who made that decision, and holding them accountable. That's the American way.

The alternative, where unidentified, unelected government agencies/ officials take action and the hoi polloi "Make the best of it", is totalitarianism.
I get that for security reasons, some details are tightly held. It's too easy for a lazy bureaucrat to wrap himself in that blanker. None of the questions above are security issues.
Philosophically, if we tolerate the (current) totalitarian approach and don't insist on democratic transparency, we're making the Anarchist's argument for them.
Here's my G20 Confidence Chart at DaysToGo=30:
Other than that, readers might want to review the "
Miami Model
" of American police strategy that we're probably about to get a good view of. Here's a story about
the Miami Model at the Republican Convention
, one year ago. Expect to see: Police control of the news, embedded reporters reporting from the official point of view, unidentified officers, lethal force, and treating dissent and protest as an offense. Chances are they'll treat the Thomas Merton protesters (the local good guys), the
Anarchists
(their favorite scapegoat), and the transient sociopaths (who'll be in the mix) as one homogeneous group.
The Pittsburgh Organizing Group's Updates (
Update 5
,
Update 6
, and
Update 7
) are online.
This will, I believe, be my last post on the subject of the G20 in Pittsburgh. Thanks for reading.