Curiously, yesterday's New York Times (July 14, 2009) carried
story by
Maureen Dowd titled, "White Man's Last Stand", regarding the Senators from Utah and Kansas facing the prospect of Supreme Court Justice Sonia Sotomayor. I must correct Ms. Dowd: the white man's last stand is the Tour De France.
In American history, when I think about racism and sports, I think about
Jim Thorpe
in 1912,
Jesse Owens
in 1936,
Joe Louis
in 1936,
Jackie Robinson
,
Cassius Clay
(sic) in 1960.
A great thing about
clean
sports is that you can either do it or you can't, and when these men got an
honest
chance to perform they showed their capability. Curiously, the remaining organized sport that is still a white boy's game at the highest levels is:
cycling
.(edit 7/19)
Even golf, GOLF for goodness' sakes, has Tiger Woods. Cycling has
- wait for it, wait for it -
Floyd Landis, an Amish guy. (NTTAWWT) Even
bobsledding has a Jamaican team
. (
site
)
How can it be that there aren't any professional black-skinned cyclists? (Use of the term black seems more appropriate than African-American in the international context of cycling.) Let's go to the history books.
Before we saw Jim Thorpe in 1912, the world saw black American cyclist Marshall "Major" Taylor in 1906. From the book,
Le Tour: A History of the Tour De France
, we have this story of the first Tour organizer (Desgrange) and a great black cyclist (Taylor):
The first man to run the Tour de France was Henri Desgrange. He had been an ardent cyclist on both bikes and tricycles, who had ridden races and had broken the one-hour record with 35 kilometres at Neuilly in 1893.

He was not... a very lovable man. Before he ran the Tour de France, he was running the Parc des Princes and one vignette in that event may be illustrative. A track cycling event was organized pitting the French champion Edmond Jacquelin against American Major Taylor, the first notable black cyclist (not that there have been many since).



Major Taylor, American cyclist, in Paris France, 1908


Major Taylor duly won, and Desgrange was so angered by this affront to the white race that he insulted the winner in turn by paying his large prize in 10-centime coins, so that Taylor had to take the money away in a wheelbarrow.

This next statement about Desgrange, written by a fellow Frenchman, speaks volumes about the Gallic spirit: Desgrange was bigoted, he was gifted, imperious and irascible, he was at times an obnoxious or even intolerable personage; all the same, he was one of the great Frenchmen of the twentieth century..
It seems no surprise that Major Taylor did not enroll in Henri Degrange's Tour de France.
---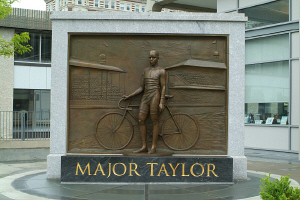 Major Taylor
Marshall Walter "Major" Taylor
(1878–1932) was an American cyclist who won the world one-mile track cycling championship in 1899 — after setting numerous world records and overcoming strong racial discrimination. Read
Ken Kifer's tribure to Major Taylor
.
---
Contemporary Black TdF Hopefulls
On July 17, 2008,
these two cyclists
were enroute from Eldoret, Kenya to Alpe d'Huez to ride the Tour De France course and document their performance against the times recorded for professional cyclists. As you probably know, Eldoret in Kenya is home to fully half of the world's champion marathon runners.
Zakayo won a local race on the same course in 42 minutes 10 seconds. In the Tour De France, Lance Armstrong's record time was 37 minutes 36 seconds. Zakayo's time of 42:10 would have placed him in the top twenty of the professional riders.
Zakayo Nderi and Samwel Mwangi are financed by
Nicholas Leong
, a (white, portly) Singaporean who is a member of the
Major Taylor Association
. Click the image below to see the
African Cyclist Project's
website. I love their
African Cyclist Blog
; the subtitle is,
"because you can't bullshit your way up a mountain"
. I love that.
The Color Peloton Barrier
Within the TdF, and all the major cycling events, there is a
Guild mentality
among the riders of the peloton. It's somewhere between a trade union, a cartel and a secret society. Simply put: if the peloton doesn't want you to win, or doesn't want you to finish, they will strive to make sure that you don't.
The Tour is three weeks long. It is impossible to go all out for 200 km a day, every day, through the long flat sprints, up & down the Alps with their obscene inclines, and everywhere in between. Most days and for most of the race, the field travels in a pack in order to save energy for the harder sections. This main section is known as the peloton. Racers will break out of the peloton and try to gain time, but you generally want to save your energy for the sections you're good at (some racers excel at mountain climbing, others are good in the flat, etc.) The peloton can carry a sick or troubled rider, and the peloton can crush an unpopular rider.
An Example of the Pack Mentality
A recent public example was in the 2004 tour, when Lance Armstrong spoke to (and allegedly threatened) a
group accompanying Simeoni
in a breakaway. There's bad blood between Armstrong and Simeoni. Both are essentially convinced the other is threatening the sport.
Anyway, it's late in the Tour now, and Lance has the overall championship in hand. Simeoni is an also-ran, but he thought he saw a chance to grab a stage win and sprinted ahead to a group of a half-dozen B-listers. Armstrong decided to stick with Simeoni and join the breakaway and prevent him from getting an easy cheap stage win.
The half-dozen guys actually in the breakaway group know that with Lance in the front all the other teams will contest the finish, and when Simeoni & Armstrong catch up to them, they all ask Armstrong to let them go, save the energy, you've got the race won, be a good sport, etc. Armstrong, who generally is gracious about these things (and in these long races, sportsmanship between teams and competitors is crucial), agrees, but he won't retreat to the peloton without Simeoni. The conversations are televised.
The
breakaway riders say to Simeoni
, hey get away from us, if you stay with us we're ruined. Simeoni reluctantly agrees to retreat with Armstrong back to the peloton. The power of the peloton for self-regulation is not to be misunderestimated.
I think that's why we don't have black cyclists competing at the Tour De France level. In order to have a place on a team, a rider must convince a Sponsor that they can make a positive contribution.
The peloton doesn't seem to want any black riders. The races that feed the TdF don't seem to have a lot of black riders. The sponsors don't seem to want any black riders.
The Tour de France: Racist. Anti-Semitic Roots. Yellow journalism.
---