Sometimes people make mistakes and it's good policy to build systems that tolerate mistakes and provide a safety net. For instance, sometimes people are driving around, get distracted, and mistake an opposite-direction one way street for the place they're supposed to go.
To prevent that, we've decided that it's cost effective to put up signs to warn drivers "hey, don't drive here" and we put those signs up all over the place. Millions and millions and millions of them.

Let's think about a different situation. Twenty years ago, the law of the Commonwealth was to ride your bicycle on the left side of the road, opposite the direction of traffic. That's still the procedure for joggers and walkers.
But we've changed that law in the meanwhile. Now, bicyclists are supposed to ride in the same direction as the cars.
Here's a question: If you learned to ride your bike thirty years ago, and got your license twenty-five years ago, how would you know about the change in the law? Did the state tell you? Is there a periodic update or retest? No, no, no.
And so, if you're a 55-year old man who hasn't ridden in years and you buy a bike at a garage sale and start riding back and forth to work, you'd probably use the same habits as you used back when you were a kid, and you'd be riding on the wrong side of the road, and you might be killed.
Unless, of course, we had signs up like this one (taken by @darsal in DC)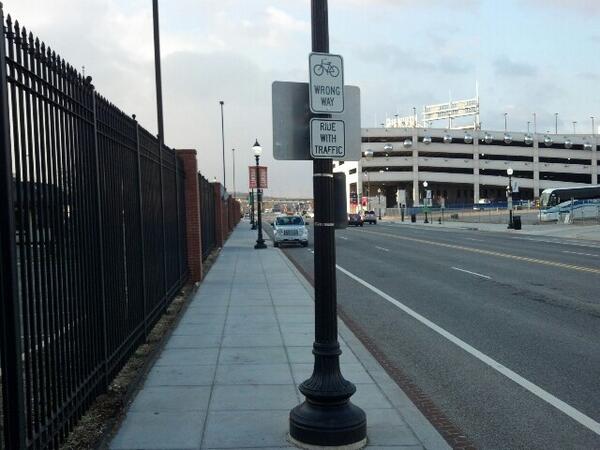 But we don't put up those signs on Pittsburgh roads or on Pennsylvania roads, because we don't care about bicyclists as much as we care about drivers.
If our streets were built for everybody, then maybe once every five blocks, piggybacked on the back of some important sign for cars we'd have a "bike-right" sign like the one above. Doesn't have to be everywhere; a reasonable distribution would go a long way to putting out the message.
It would be a much more effective program than the current policy of doing nothing, killing a cyclist periodically, and then letting the news coverage do the work.